A running post of George Springeralia:
3:08pm
: George Springer will hit 2nd tonight.
12:32pm
: Luhnow wants to see Singleton establish a track record of success at OKC before bringing him up. Chris Carter breathes a sigh of relief.
12:31pm
: Morgan Ensberg would like everyone to chill out about Springer.
11:45am
: The rest of you Astros are on notice. "Guys that don't produce aren't going to stick around." - Jeff Luhnow
11:40am
: Baseball America on what to expect from Springer.
11:39am
: Jerome Williams or Brad Peacock will likely take Harrell's rotation spot.
10:44am
: "We've got a lot of good guys in the system, hopefully this is the first of many really good ones to come." - Jim Crane
10:39am
: Lucas Harrell told Mark Berman, "All three of my starts were way different. The ball caught here, the ball caught there. Bounce this way, bounce that way....all three of my starts were way different. Just one of those things, bad luck."
10:18am
: Scott Feldman has been reinstated from the Bereavement List, so there's your corresponding Harrell move.
10:11am
: Crawfish Boxes has What To Expect from Springer
10:10am
: The Astros still have one 40-Man roster spot.
10:08am
: Mike Acosta posted this beautiful picture: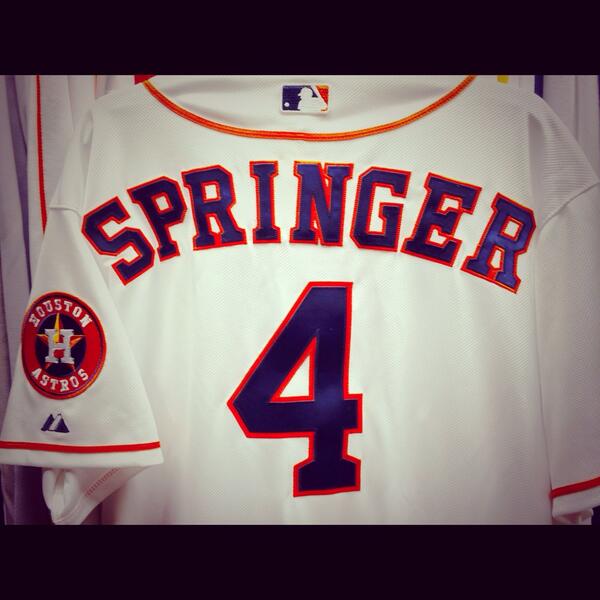 9:15am
: "Excited for my boy (George Springer) debut! Couldn't have happened to a better teammate! #bestplayeriveeverplayedwith" - OKC's Erik Castro
9:11am
: "Good seats available for tonight in case you aren't doing anything." - Jeff Luhnow
9:06am
: "Good job by astros to call up future star George Springer without a longterm deal in place. And there is no long deal yet." - Jon Heyman.
8:56am
: Check out a special edition of the Astros County Morning Drive (thanks to Tim & the Crawfish Boxes for hooking me up)
8:52am: Exclusive photo of George Springer getting off the plane:
8:28am
: "Good to see astros calling up multialented OF george springer. some scouts say ss carlos correa, 19, is ready for bigs too." - Jon Heyman
8:24am
: Brian McTaggart has a list of notable Astros debuts.
8:16am
: Check out David Coleman's thoughts on the last 12 hours, as well.
8:15am
: Jayne at What The Heck, Bobby has some good thoughts about what this means.
7:52am
: Springer will wear #4 - formerly worn by Craig Biggio.
7:26am
: "Happy first day of Springer!" - Keith Law