Here's what you knead two no as the Winter Meetings kick off and your favorite beat writers talk about what a drag it is to go to San Diego in December.
*Of course, the Astros
are looking for
bullpen help after the Goatpen of 2012-2014 blew eleventy billion leads.
*Perceived top target?
Reliever David Robertson
, who has thrown over 60IP in each of the last five seasons, with a sub-2.70 FIP in each of the last four, and recorded the 3rd 13.0+ K/9 in 2014. He's looking for a 4yr/$50m-ish deal for his next contract. Next problem: the
Astros don't think
Robertson wants to pitch in Houston.
*But the White Sox
are going after
David Robertson, too.
*And if they can't get Robertson (after all, they did offer more money to Andrew Miller, who just went to the Yankees, anyway)? The Astros
are expected to go after
former Giants closer Sergio Romo. Romo will be cheaper than Robertson, especially since he's coming off a "down year," in which he had his first season with an ERA+ under league average. That said, his WHIP was 0.95, and he posted a 4.92 K/BB ratio.
*Another bullpen possibility:
Luke Gregerson
, whom Evan Drellich describes as "the Astros' most logical remaining free-agent option."
*
According to TSN
, the Astros have inquired about 3B Chase Headley, but "it looks like it has come down to the Yankees or Giants."
*The Astros
apparently have interest
in free agent starter Brett Anderson, who recently ripped the Astros and Lucas Harrell: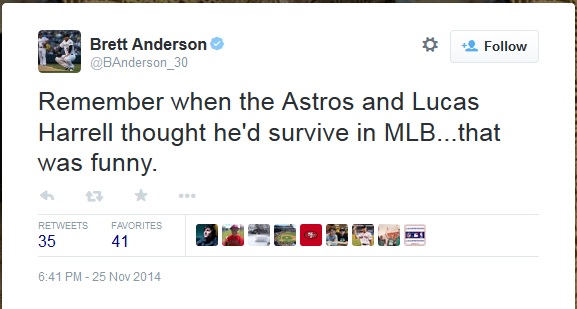 *
Phil Humber signed
a $600,000 contract with the Kia Tigers in Korea.