From now until the end of the season, Alex Bregman will be the fourth-best hitter on the Astros, right behind Correa, Altuve, and Springer. Book it.
After being taken second overall in 2015, Bregman made his debut with the Astros on July 25, 2016. He struggled right out of the gate, going 1-for-34 to begin his career before seeming to catch fire and finish the season with a .915 OPS.
One of the biggest debates this offseason with regard to how "real" the Astros were as contenders was which version of Alex Bregman we were going to see. So far in 2017 he has been underwhelming, but I don't expect that to last long.
Fewer Pitches Inside:
Look at the chart below. You can see in 2016 pitchers tried to come inside on Bregman much more than they do in 2017.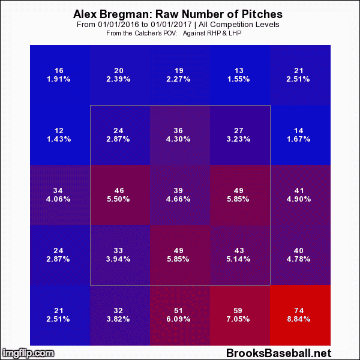 The reason for that is simple -- Bregman likes to hit pitches inside and pitcher generally do not like their pitches hit. With that many balls down and away, it's pretty unreasonable to expect Bregman to slug as high as he did last season. When the alternative is seeing pitches crushed, pitchers are going to everything down and away and hope the batter will swing and miss. I don't need to explain this to you, you watched Chris Carter.
More Walks, Fewer Strikeouts:
There are very few things that we as humans can agree on, for instance Chicago vs. New York Style pizza (New York), or which starter Pokemon to choose (Charmander), or whether a hot dog is a sandwich (Trick question: hot dogs are gross and weird and should never be eaten). However, if there is one thing I think most of us can agree on it is that a hitter walking more and striking out less is probably a good thing.
Enter Alex Bregman.
So while Bregman has had a slightly worse stat line, you can see that his strikeout rate is down and his walk rate has gone from Nice to nicer. His ability to lay off those pitches down and away is going to pay dividends when pitchers realize they are going to have to come back towards the plate if they want to get him out.
Silly BABIP, Hits Are For Kids:
Luck is a factor in any sport, and doubly so in the AFC South. Batting average on balls in play (BABIP) is one way to measure luck in baseball. In 2016, Bregman had a .317 BABIP, in 2017 it has been .274. League average is around .300.
Bregman batted .264 last season, but has hit just .244 so far this year. He has 55 hits in 225 at-bats this season with that .274 BABIP we talked about earlier. If we adjust his BABIP to .300 (which is league average) he "should" have five more hits for a total of 60.
Those 60 hits would give him a batting average of .266, or almost exactly the same as last year. He's fine.
What Have We Learned?
First, math is hard and I was not planning on using it during my summer break from teaching. Also, Bregman has essentially been producing at the level he did all last year when you adjust for luck and the fact that is walking more, striking out less and having to adjust to major league pitching trying to figure him out.
Bregman is a great hitter who is 23-years-old with just over 100 career games played. The fact that he is hitting like this at all is remarkable and I think we're about to see that he is capable of much more.