If you've been following along with former Astros news and/or have a mancrush on Brandon Backe (as I do), then you've been troubled by what you've heard recently.
Backe
testified yesterday
that his throwing arm was basically ruined in a brawl with police at an October 2008 wedding, that he can't tuck in his shirt or fasten his own seat belt. So let's look back at what happened at the time.
In four years from 2004-2007 Backe threw 288IP, making 47 starts, and posting a 4.41 ERA/1.46 WHIP. These aren't great numbers - good enough for a 98 ERA+. But Backe was Backe, and had a penchant for (old-school alert) Coming Up Big in Clutch Games. And while he only made 13 starts in 2006 and 2007 (71.2IP), he was still somewhat solid.
Then 2008 happened. He gave up a league-leading 112ER and 36HR. Granted, in two of his starts (
August 6
and
August 16
) he allowed 9H/11ER, and he didn't make it out of the 2nd in either of his final two
post-Ike starts
(remember - he's from Galveston) giving up 13ER in a total 3IP. But he did make 11 quality starts, so those four bad starts (35ER in 12IP) really skew his numbers.
On October 5, 2008 Backe was one of ten people arrested the H20 bar at the San Luis Resort in Galveston following a wedding held at the nearby convention center. The story in the
Chronicle
said "the trouble started when" a police officer approached Daniel O'Balle (19 years old) about entering the pool bar with an open container of alcohol. O'Balle then apparently "took a fighting stance" toward the officer who attempted to arrest him before O'Balle hit him in the upper chest and another officer in the face.
"When police attempted to handcuff O'Balle, others at the bar were also refusing commands from officers, escalating into a scene that police described as a riot."
The bride's father, 19-year old brother (O'Balle), and a FEMA coordinator (we're less than a month past Hurricane Ike here) were also arrested after police tasered both the father and the brother and pepper-sprayed the crowd. Police spokesman Captain Walter Braun said that an internal affairs investigation was underway.
Backe was told by police to back away, refused, and police attempted to handcuff him. This
report says
, "One officer said he hit Backe twice in the face before handcuffing him," and the police report indicated both the officer and Backe sustained minor injuries. Backe was charged with resisting arrest and interfering with a police officer and was released on $1,500 bond.
Mug Shot (
via KTRK
)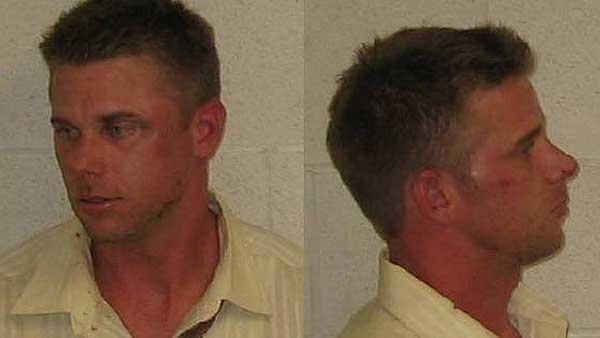 Eyewitnesses claimed (via KTRK) that police used excessive force, and Backe's attorney contacted the U.S. attorney's office. A groomsman at the wedding
testified last week
that he saw Backe lying in a pool of blood after being thrown to the ground.
A private investigator studied the event herself after part of the arrest
was filmed on a cell
phone. Bobbi Bacha, the owner of Blue Moon Investigations, was at the wedding but left before the bar fight. Having interviewed "two dozen witnesses" she said, "Everyone is saying no one was making any aggressions to any peace officers. If anything, it was vice-versa. It was very aggressive police officers."
Backe went into the off-season as a possible non-tender candidate, but ultimately reupped with the Astros for 2009. He made five appearances (one start), totaling 13IP with 21H/15ER, 10K:6BB before being released on June 29, 2009, and he never pitched in a professional game again. Backe wasn't happy about the way he was treated that season,
saying
:
It's extremely difficult just the way - I kind of hate to say it - just the way that I was treated. I was given a schedule of five starts in the minor leagues to get myself rehabbed and back in the rotation. Then they threw another (rehab start) on me at the end to go to Round Rock and pitch. Once that's over with they played the game, 'I don't know what's going on,' until the last minute. And then all of the sudden I'm in the bullpen. Mentally that's pretty frustrating. Then not only being in the bullpen but just getting, so to speak, 'scrap' work. It's difficult. I was thrown into something that was out of the norm and was expected to do well, apparently. And it was tough to just battle the mental demons inside of just being treated the way that I was.
Five months after the fight took place,
nine of the police officers involved
were suspended without pay and four others were given a written reprimand. The linked article gives some more background:
At some point, an officer called for backup, and dozens of cops showed up at the resort. The lawsuit is full of accusations and descriptions of alleged police brutality. The lawsuit states that the officers abused wedding and hotel guests by beating, kicking and pepper-spraying them. Some of the plaintiffs claim they were Tasered, some say they were handcuffed and hit, and one man claims that an officer slammed his pregnant wife to the ground. When the man asked why, he says the cop punched him.
As for Backe, he claims that he tried to calm some of the officers down. But when he did, he says, a policeman grabbed Backe, forced him to the ground and handcuffed the former big-leaguer, before proceeding to punch and kick him. Backe says he was dragged outside and put in a police car.
Was he just bad in 2009, or is there something to Backe's shoulder being torn apart by Galveston PD? In
July 2009
he was scheduled to have a partial tear of his rotator cuff repaired by Dr. James Andrews. The surgery didn't work. Seven months after having surgery,
he still couldn't lift
his arm above his shoulder. None of the charges to the "rioters" ever stuck. Backe and three others were given one day of probation while the other charges were dismissed.