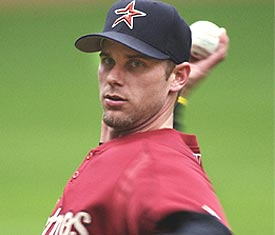 Starting at the top of the alphabetical roster, we have
everyone's favorite wedding guest
...Brandon Backe!
2008 review
: Backe has been, to be very kind, inconsistent in his time with the Astros. In seven seasons in the Majors, Backe is 31-29. He has only been used as a starter primarily since 2005 and missed significant time in '06 and '07 thanks to Tommy John surgery.
But the problem has pretty much been his location. No one gave up more home runs in 2008 in the Majors than Backe, with 36 in 166.2 innings (!). That's one for every 21 batters faced in 2008.
In addition to the dingers, Backe lets guys get on base - a career 1.53 WHIP (1.67 in 2008). A lot of this can be attributed to re-learning how to pitch after having elbow surgery, but he's never exactly kept the bases clear and his 112 earned runs in 2008 were most in the NL while batters hit .302 against him.
July was the kindest month for Backe in '08, as he gave up 27 hits in 28.2 innings pitched with a 3.45 ERA - but the Astros were so bad that he went 1-2 in those games and the rest of the season went downhill from there (a 7.82 ERA in August and a
19.64
ERA in September.
Backe was actually better on the road than at home in 2008 with a 5.94 / 6.16 (road / home ) ERA split. Against division opponents, Backe's 2008 is as follows:
CIN: 1-0, 2.70 ERA
CHC: 0-2, 8.85 ERA
MIL: 1-2, 6.30 ERA
PIT: 0-1, 4.00 ERA
STL: 0-1, 7.20 ERA
If you're keeping score at home (and we always are), in 12 starts, Backe was 2-6 against divisional foes. And when he was behind in the count, batters hit .354 against him. And another thing: the first four spots in the lineup combined to hit .335.
Backe basically has four pitches: fastball, curve, slider and a changeup. The problem is that he relies too much on that fastball - again, probably owing to the Tommy John surgery. 60% of his first pitches to a batter in '08 were fastballs, and he throws it 70% of the time when he's behind. But batters only got hits on his fastball 25.8% of the time. It's those breaking pitches that got him, with batters hitting .340 when he threw the Uncle Charlie and .368 off his changeup.
How did he get here?
Traded in December 2003 to the Astros for Geoff Blum - who in an unfortunate stroke of bad luck hit the GWHR off Brad Lidge in Game 3 of the 2005 World Series for Chicago.
Forecast for 2009:
Here's the thing about pitchers: You're paying for 35 starts. Roy Oswalt carries the same weight in the rotation as Backe, as they both make up 20% of the rotation. So Backe pitched like a #5 starter - or like he should have been in Corpus Christi, except he was #3 or #4 in the rotation. He is not under contract for 2009, signing last January to avoid arbitration, but "only" made $800,000. With the dearth of pitching in the Astros' system, you have to imagine the Astros will keep Backe. They gave him half a million dollars to have TJ surgery, they'll keep him around to see how he turns out.
The Crawfish Boxes
- the other Astros blog, and the one we're trying to oust as THE Astros blog - makes the point that pitchers tend to do better the second year after Tommy John surgery.